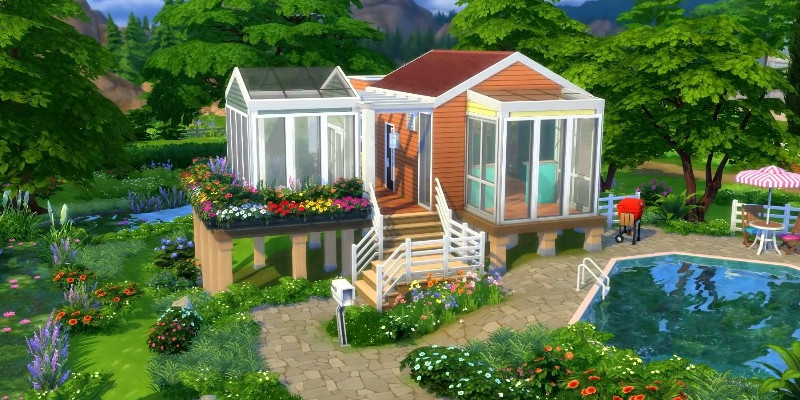 Multiple Sims 4 players have created tiny homes for their Sims. During the Tiny House Challenge that took place last month, talented users represented extraordinary and amazing small houses, just from fairy tales. It was not an easy task due to the limited space. Other players may be inspired by tiny homes, and build something similar.
The Sims 4 brought one of the hardest challenges offering players to build the smallest house and place there all the furniture and stuff their Sims may need. And the results are fascinating. It looks like tiny living became the new trend in the game.
Thomas TV's Tiny Farm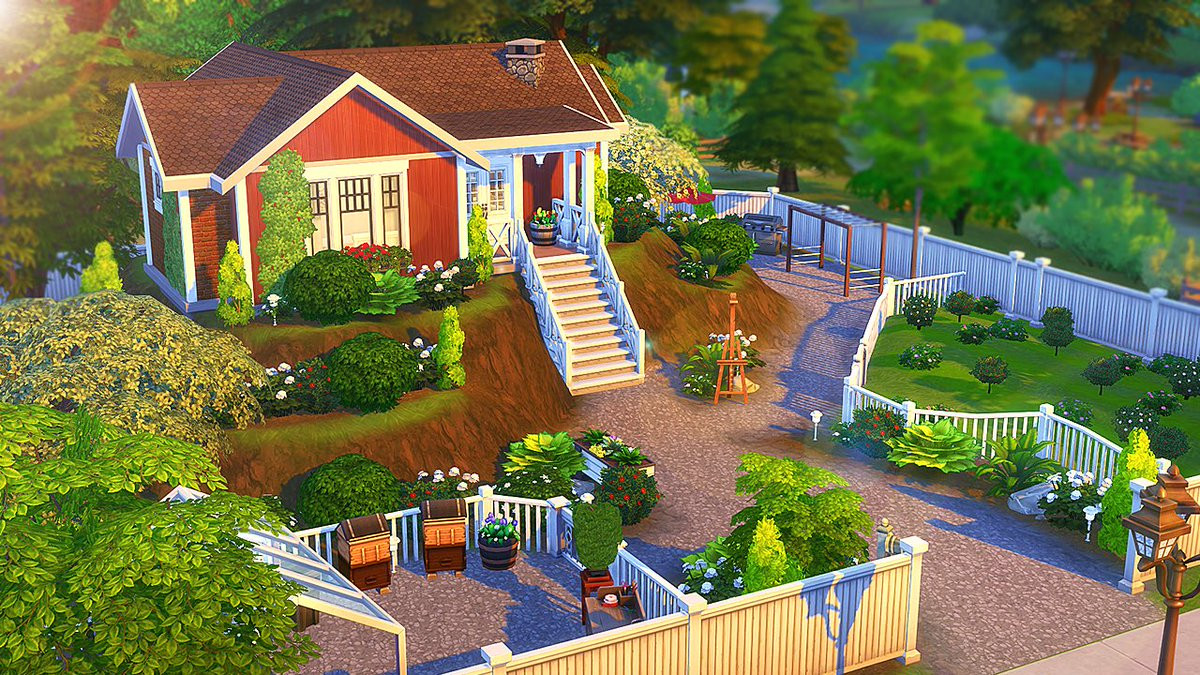 Not many of us would prefer city apartments to a tiny farm, especially when it looks so gorgeous. The house has 2 bedrooms and is under 100 tiles. The garden contains a glass greenhouse, beehives, various bushes, and trees.
There is a place for gardening if you want it. You may simply enjoy the beauty of the house you are living in or try to gather fresh veggies and fruits.
Thomas is a really productive player. He created not just one tiny farmhouse, but the whole community of tiny homes' owners. Check out his tiny home of 3x2 size.
Aera Bee's Modern Micro House
This is a house for one person. And it is not just a tiny micro-home, it is everything you want to have in your house. There is a small kitchen, lounge, and a place to relax, read something, watch TV. There is a bathroom and a bedroom upstairs.
Outside the house, you will find a garden, a pool, and a balcony. Near the pool there is a table for dining and two canopy chairs. It looks creative and extremely compact.
OctoBinx's Mushroom House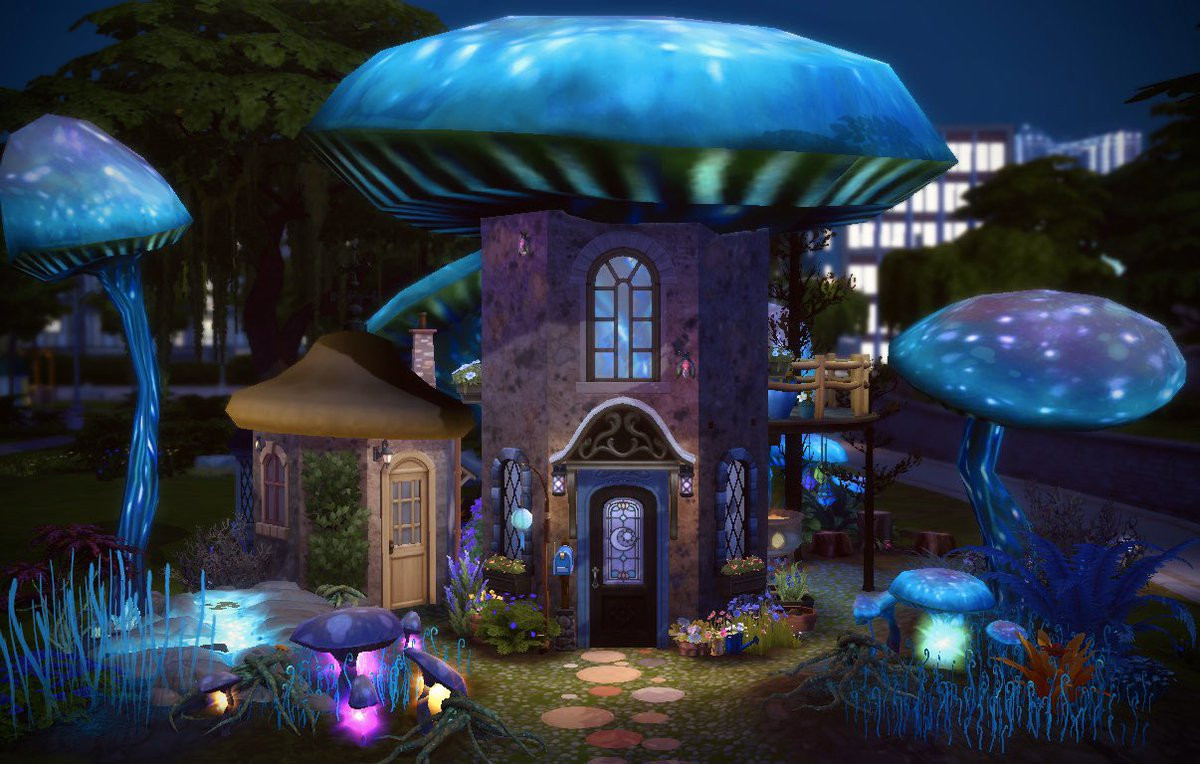 Who does not want to live in a mushroom? It looks magical, it feels magical, and you can become a part of this fairy tale. While the house looks like it belongs to fairies, your Sim may live in it with comfort.
Just check out this incredible door with moon and star stained-glass window in it. The small balcony on the second floor provides extra space. You may sit down and relax under it, enjoying a rainy day.
Laireen's Oasis
This tiny house was probably inspired by one of the retro homes from the 50s. It is placed on 64 tiles area, and it looks even bigger than the others. There is a bathroom, kitchen, lounge, and a double bedroom. Everything is separated.
In the yard, you will find BBQ, bar, seating for everyone who wants to relax in this sunny paradise. It was specifically designed for the desert. The house may look simple, but it is still perfect.
Simarchy's Tiny House
This house is 2x2, with 1 tile bathroom that looks like a hippie shelter. It is vivid and cozy, and well… absolutely small. Its 4 tiles size makes other tiny homes look gigantic. Every part of the space is well-though and usable.
This house contains a 1 tile bathroom, a room that can be called "lounge, study, and bedroom", and a kitchen with microwave and fridge. You may use the study table to eat there. The apartment is perfect for some savvy students or busy office workers.
Kate Emerald's Strangerville Tiny House
This house was built on 8 tiles area. It looks tiny and tall. The house contains a small bathroom, bedroom. It has a dresser, desk, and even a lounge.
The designer did not forget about some comfort things like microwaves and fridge. The outdoor area is decorated with exotic trees and flowers. There is even a small dining table in the yard.
RGR Gaming's Triplets
Triplets are not simply one house. This is 3 different tiny houses combined in one, with a total area of 30 tiles. And they all still count as one. The designer offers the living space for 6 Sims, 2 Sims in each house. This is a perfect option for players who want to organize a tiny home community.
Every house is different. They are colored differently, and the combination of furniture is different as well. Yet, each of them has everything Sims may need for their comfortable living.
Ninnster's Teeny Tiny Treehouse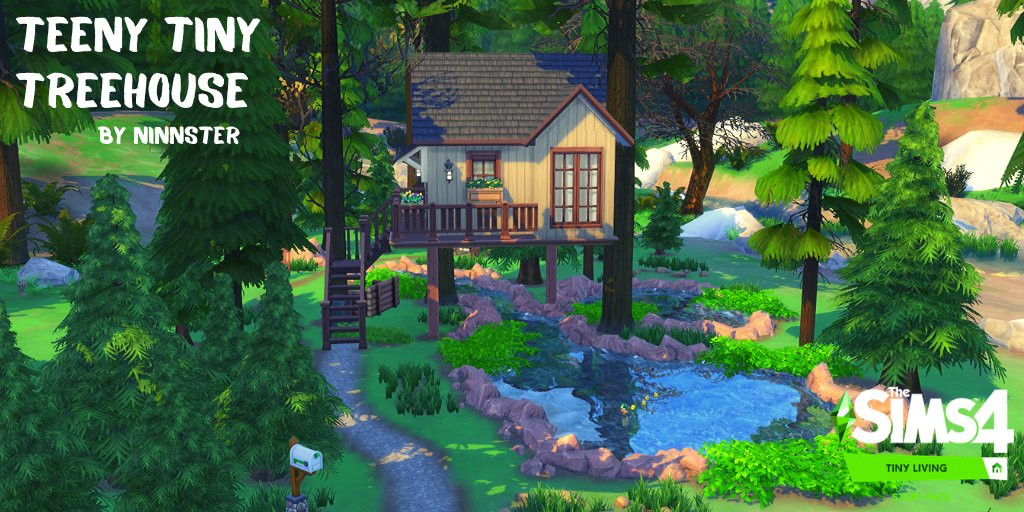 This is the second fairy tale looking house, after the Mushroom, we all want to live in. The treehouse is a dream that comes from childhood. It is slightly bigger than Mushroom, as the house is placed on 32 tiles.
The house was made for beautiful landscapes of Granite Falls. And if you want to relax in the woods, there can be no better place to do it. Indoors and outdoors, this house is a masterpiece. You have to check out the tiny pond, surrounded by stones. The house can handle 2 Sims inside. Yet, pay attention that there is a Murphy bed.
Simproved's Huge Micro Home
This designer usually builds outstanding but enormous houses. You may only imagine how hard it was for her to create a micro home. Once she even created a Hogwarts replica. This time, Simproved did her best to turn tiny space in huge.
Her house stands on 25 tiles. And it looks massive, thanks to the tricks with windows and roofing. It is made completely from glass roofs. You have to see it for yourself.
DrGluon's Shoe House
Shoe House is definitely a great idea, especially when you are limited in space. And while it looks rather extraordinary, this house is completely functioning. It stands on 31 tiles.
Inside the house, there is a bathroom with stairs that leads to the kitchen. You will find the lounge there as well. It is downstairs.
More ideas from The Sims developers
While everyone is fascinated with the task to show their creative side in the limited space, game developers suggest several nice tips that may actually help:
Glass windows and walls make everything look bigger;
Use the outdoors space as well;
Don't try to fit all the furniture at once;
Forget about big porches;
Remove the inner walls to visually extend the space;
Keep in mind the empty rooftop space.
Build Your Own Tiny House
We recommend you to use all of these ideas to create something new and unique. If you have already designed your tiny house, share it in the comments section. We are also curious about which house you like the most. Name your favorite tiny houses from well-known Sims designers. If you disagree with our list here, that's ok, just explain why.